Bossa N´ the series that made history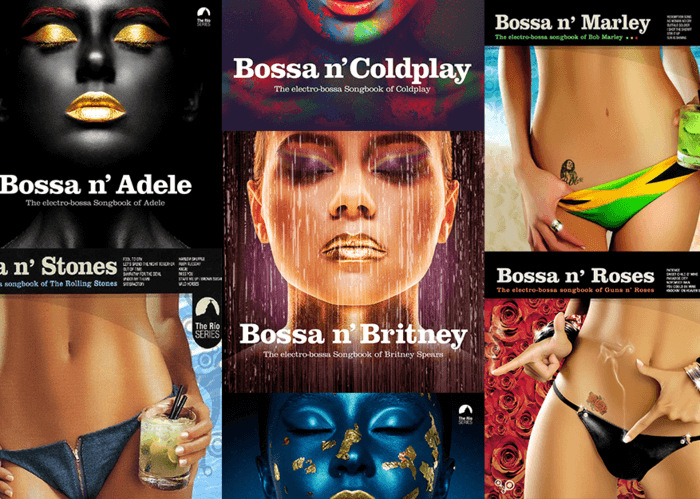 It was the year 2005 and an album surprised everyone, first in Argentina and then in the rest of the world. It was a totally unexpected crossover for the time: the best of the Rolling Stones songbook merged with a powerful electro-bossa beat. With very little radio airplay, Bossa n' Stones became the mandatory soundtrack everywhere: stores, offices, bars, restaurants and friends' houses. Millions of copies were sold and to this day, the album and the entire subsequent series continue to add thousands and thousands of streams ever year in a lasting and evergreen way. How did the story start?
"Randomly, I got in touch with a specialized journalist from the music industry who used to be a music critic", says Federico Scialabba from Music Brokers. "He was the most incisive of all. We went to eat somewhere with my wife, but since we arrived late and the kitchen was closed, they suggested for us to go to the living room and wait while they would some takeout. We sat down and I accidentally came across a stack of magazines. The one that was on top of all was a fairly mythical one, InRockuptibles. I started leafing through it and the review of one of our electronic albums appeared, one made in the style of St Germain, which was -objectively- excellent. And the criticism, which was positive, highlighted all the virtues of the album, but ended up by saying: "It's very worthy effort considering that is from a local musician." I went nuts; I started shouting, I asked my wife what does it means to be a dignified local artist. I was outraged. What are we?, she asked, B class? I couldn't eat anymore, my stomach was closed, so I made a decision. I knew that the journalist worked on weekends in a record store because from time to time I bought music there and I thought about going. My wife reluctantly agreed and told me: 'I'll go with you but since I don't want to be a part of any scandal, I'll wait for you in the car.' We went together, I was very angry. I waited at the door until the customer who was buying left and went inside. I faced him with the magazine in hand and told him: 'You have no shame, if somebody would have sent you this album without you knowing it was from a local record label, if they had sent it to you as if it were the new one from St Germain, you would have given it 5 stars and for sure you would have writeen: ´It is the great revolution, a milestone in the history of the band´. He started talking back and we got into a less violent and much more philosophical discussion than I had imagined. And at one point he rushed me by assuring that, between his journalistic and musical training and the pulse of the market for spending most of the day at the record store, he knew exactly what people wanted. And I, fed up, challenged him: 'Ok, since you are a genius, Let's see what you got, what do people want'. And he blurted out: 'An electronic bossa nova record with the repertoire of the Rolling Stones.' I was speechless, I smiled and said: 'Let's do it'. He told me that he couldn't, that he didn't have the equipment or the time, or anything else that was needed. I guaranteed him that Music Brokers gave him everything, the associated producers, the studio, the equipment, absolutely everything that was needed. Later I explained the business to him, I told him that he was going to take a percentage of the royalties and we struck the deal right there. A week later, he called me telling me that he had spoken with a famous Argentine musician, and that it was better to receive a fixed amount for all the work and that's it. I asked him what that amount would be, and he suggested that I only charge a fee for the work. I replied that beyond my total respect for that Argentine musician, if I took advantage of that advice he could do a great business paying him only for the work, but he did not seem honest to me. So I proposed to him, charge the fee you want and we will put it as an advance for future royalties. In a short time you will recognize that you were about to make the mistake of your life.
The objective fact is that royalties far exceeded the projection. The first Bossa N album sold millions of records in Argentina and in the world, to that, you would need to add everything it has sold on iTunes and all the money the project continues to generate even today with streams on Spotify and other streaming services.
"The instant success achieved by the first Bossa N' Stones took us by surprise, at a time when there were no social networks, reaching so many units sold and in all parts of the world was incredible," recalls Federico Scialabba, "we knew before it came out that we had something powerful at hand, but it was impossible to imagine the monster that would become. We had a product that we trusted musically and visually, but we had to try it. So we agreed with Musimundo (Argentina's biggest music store at the time) to place the first 500 copies that we launched as a pilot test in three different locations. The first 500 units were sold in less than 45 minutes. The next day the orders began to arrive and we realized that the idea was going to completely exceed our expectations".
After Bossa N' Stones came out, many wanted to replicate the idea, in fact, Music Brokers had to make multiple claims, to a multinational label eve, that tried to steal our producers, but no one managed to replicate the magic. The concept might seem generic, but people knew right away which ones were the originals, the ones with the bikini-clad girls on the covers.
"The Bossa N' Stones cover, which was spectacular, also became a differential", explains Federico Scialabba. "That cover ended up being the cover of a book called 'The Bikini Book. The person in charge was our Art Director, Federico Dell Albani, I remember as if it were today that morning he said that he would not leave the office until he finished the perfect cover for the album. I stayed with him until eleven at night and when it was ready we looked at each other knowing it was a hit", says Federico Scialabba.
Music Brokers made Bossa N' a concept unto itself. The idea grew and continued. The first album was followed by a whole series. The company formed a team of producers and artists from different countries who collaborated depending on the needs of each album. With the spirit of Bossa Nova and contemporary electronics, each one had their own journey, and all of them were extremely successful: Bossa N' Marley, Bossa N' Ramones, Bossa N'Roses, Bossa N'Adele, Bossa N'Amy, among others.
According to various music critics, Bossa N' became a subgenre unto itself. And for Music Brokers they are from then until today one of its distinctive brands.
Music Brokers
MB Entertainment Group
Federico Scialabba