The artwork that projected the image of Music Brokers to the world.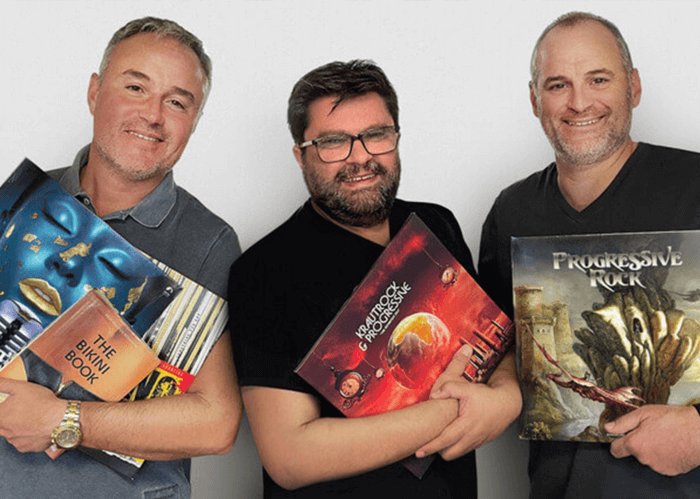 Federico Dell Albani, Music Brokers' Art Director, was the creator of the record covers that made history in Argentina and around the world.
Federico Dell Albani has two records in his career: he is one of the art directors who designed the most record covers for the same record company; and… certainly one of the most talented. He has been working at Music Brokers for 20 years. His work began at a key moment, just when the company was launching as a multinational and needed to transform the image of all its products.
Dell Albani came from Artear, a big company, the owners of Channel 13, with more than 600 employees, and he agreed to join the adventure proposed by Federico Scialabba, CEO of that new record company called Music Brokers.
"At that time, the company was in a moment of commercial growth, but we lacked that touch that would allow us to compete not only in Argentina but in the world", comments Federico Scialabba, CEO of Music Brokers. I met Dell Albani at Channel 13 because in my days at MCA we had made a record with music from movies with that TV channel. To close our agreement, Walter Sequeira, manager of Artear's film department, had made it a condition that the design be done by the channel's designer. When we met two weeks after speaking with him, Dell Albani had done something extraordinary: a layout with edits to all the scenes that corresponded to the soundtracks of the chosen films. That's when we realized that he was a unique talent, so we asked him to work for us as a freelancer. He did some cover ats that were big-sellers, including "The 100 Best Ballads Ever," and a few years later we tempted him to join the team as a full time member. But it was like transferring a football player's and he had to leave a secure position in a big company like Channel 13 to embark on an adventure".
In this interview, Federico Dell Albani tells in his own words what those first years at Music Brokers were like and how it went from being an independent record company to becoming a multinational company. 
What was the first thing you did for the company?
They called me to give a more international aesthetic to the albums' covers. When I joined the company was at the time when Music Brokers decided to set foot abroad. Federico Scialabba looked closely at what was done outside the country and knew that in order to export and be successful he had to improve the overall image. So, while we were creating the covers for the new releases, we decided to review the entire catalog and I redesigned all the albums that had already been released one by one.
And how many were they?
I don't remember the exact number, but there were a lot. You have to think that at that time, in 2003, most of the Argentine record companies were bankrupt or about to go bankrupt, and Music Brokers had found a specific and very particular niche, and it did not stop producing. So, creating a new image for almost the entire catalog took several months of work, practically a year.
Had you already worked with music before starting with Music Brokers?
My music experience started with Music Brokers, but the company was a record-making machine. It was running at such speed that I quickly got into pace. I did a crash course. We started with double albums, then triple CD collections and we tried out alternative formats. And since the demand was so big, we had to start hiring additional people. And there began a creative stage of the company in which we expanded because everything we did worked. We made double-CDs, we released them and they sold very well, we made bigger collections and they also sold very well, we made triple CDs and the same happened. The market gave us permanent feedback and we did not stop.
How were decisions made regarding artwork?
We worked as a team. Federico Scialabba was very involved with the design of the covers. He gave feedback, and share ideas, there were constant back and forth. We stayed up late at the office trying to make each cover better than the last. I remember that we had been working for several months when for one of the releases I found myself debating with Scialabba about the background color of a cover, until I realized from his comments that he was seeing something different, something that was not how he saw it. I asked him if he was making fun of me and he looked at me in a weird way. That night I found out, after months of working together, that the guy who gave his opinion about colors and often got it right with the decisions was color blind.
And with all that you produced together with Federico Scialabba, was there enough time to dedicate to each release?
There was passion, we were young and we worked long hours every day. It was a lot of fun, hard work yes, but we had a great time. Everything was much more homemade. What you used from the internet was limited, going to a digital image bank literally meant going to a place, asking for the images and bringing them back. The files had to be light, everything was more limited. We produced the album cover photos with models, lights, backgrounds, and the photographers doing endless shoots to get what we wanted.
Was Bossa N' Stones the first big hit?
Yes, it was one of the great successes and the cover added to it because it was quite innovative for the time. The photographic production with the model Débora Bello was complete, there are no overlapping elements. I mean; We had the bikini in the photo made and it was made with a jean as seen in the image, the only addition on the outside is the closure. The caipirinha that she is holding in his hand is real, we made it during the session and afterwards, of course, we ended up drinking it and everyone was tipsy. When we had the photo we spent a whole night working to get the perfect cover for the album. And it came out quite good because it was nominated for the best cover of the year in 2005.
Is the photo of Bossa N' Stones the cover of the book The Bikini Book?
The anecdote of how our photo got to the cover of that book is funny. We were in one of our late nights at the office, Scialabba and me. Suddenly the phone rings, there was no one else left, and Federico tells me: "You answer it, it's the millionth call today." When I answered they started to talk to me in English. They asked me if the photo on the disc was ours. As soon as he realized that this was important, I passed the phone to Scialabba and they agreed to talk the next day. We ended up licensing the photo to this publisher, it's called Assouline, which publishes object books. A Taschen-style editorial. And there, our famous photo appeared on the cover of the book and on a giant double page inside.
And how was the subsequent art work with the general digitization of the catalogue?
It was a gradual process, there was no drastic changes. Little by little we were merging physical products with digital ones. At first it was just adapting the format. At that time, Spotify did not use covers in high resolution like today, so they had to be adapted. And so, the catalog began to live its digital journey but I continued to feed the physical product in all countries. It was not designing only for Argentina, it was necessary to produce the art of covers, back covers, legal; For Brazil, Chile, Mexico, Europe countries. The information was modified, we sent the art to different factories, because we no longer did everything here. It was a lot of work, and we also produced movie DVDs, video games, and it was all designed in-house.
And today how designing a physical or digital product is different?
Each market has its logic, but beyond the conceptual, the physical product requires another production, it requires a cover, a back, an interior, there are many more details.
With so many albums, how do you still come up with innovative ideas? What are you inspired by?
The challenge is day to day, because I make 10 digital covers a week, sometimes 15, and I try not to repeat myself. With the number of covers I've made in my life, I must have the Guinness record for record covers, plus vinyl and book covers. I must be the most prolific designer ever, ha. Kidding aside, I don't think there's a guy who has the amount of artworks that I have for a single company.
What was the biggest challenge in all these years?
There were several, but I think the Many Faces collection was the best I did and it is the collection that required the most work. They were the albums that required me to rethink my concepts regarding cover art. It was a complex job. With each release I had to change my way of designing completely. I had to find a way to present, for example, a Pink Floyd album that had the aesthetic of the band, that could be quickly associated with the band, but without copying any of the covers that were already on the market. It had to capture the spirit of the music, and in some cases even the spirit of the times, but without replicating other designs. It was a huge challenge. It is still a challenge, because every year we continue to produce albums from the collection. There I came across the challenge of breaking my own design, and to achieve this I was inspired by large studios that had made emblematic designs, one of them is Hipgnosis. I was looking for fonts, it drove me crazy. Many Faces was a turning point that positioned Music Brokers, the only Latin American multinational independent company, with a special focus on the history of rock, and later this was extended to pop and other genres.
Are you bored of designing artwork for records?
No, in fact it is what I would like to continue doing for the rest of my life
Music Brokers
MB Entertainment Business Group
Federico Scialabba